Uniform Information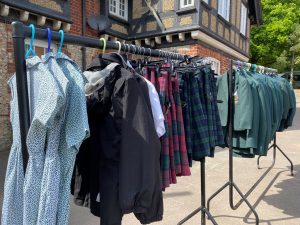 ***********************************************************************************
The shop will be open every Monday 08.30 to 10.00 and 14.00 to 16.00
Please email uniform@ditchampark.com to place an order, to query second hand uniform or to book an appointment to visit.
Emails will be checked on Wednesday mornings and any orders will be delivered to classrooms or cubby-holes.
*************************************************************************************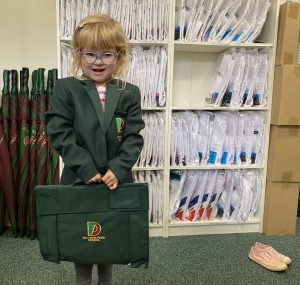 Payment details
In House Uniform Shop
Account number 03183009
Sort code 09-01-50
*****************************************************************
Second-hand uniform
FDPS run a sale on the first Monday of the month in term time between 14.15 and 15.15.
Selling second hand uniform
A private Facebook group called Ditcham Park School Second Hand Uniform has been set up for parents who wish to sell School items; please look up the group and request to join.
Second hand Ditcham logoed items, kilts and summer dresses can be sold via the shop too. Due to limited space we only accept these Ditcham items. Uniform must be clean and in good condition
Please label items clearly securing the label with a safety pin. Please do not use Sellotape, paperclips or post-it notes which fall off. We are not responsible for any unlabelled items.
Please label item with:
Parent's name
Email address
Name of item
Size
Asking price – Ali is happy to price it for you if you prefer
20% is added to all items for School funds
 If the uniform is not labelled the money will go to School funds. If you wish to donate the money to School funds, please write 'School funds' on the bag. You are welcome to leave items in the School office; we just ask that you clearly label your bag with your name and contents. Buying second hand uniform is cash only.
Receiving payment for your items sold
The cash from any items sold will be left in Reception for you to collect and Ali will email to advise you that there is money to collect.
********************************************************************************
School Uniform Rules
Pupils must wear uniform to, and from school. Uniform must be clean and presentable and worn appropriately i.e. no rolled up skirts. Shirts and blouses must be tucked in. No laddered tights, no blazers without buttons.
Boys must always wear ties. The exception to this would be for Junior boys when wearing summer uniform and if the Headmaster has given permission due to particularly hot weather.
Naming Uniform – All school uniform should be clearly labelled with your child's name.
Sports kit needs to be named on the outside:
PE and games shirts – top left-hand side of the chest
Tracksuit top – top left-hand side of chest
Tracksuit bottoms – on left hand side of pocket
Socks – on outside at the top
Shorts- bottom left side of leg
Skort – bottom left-hand side
Trainers – inside
JUNIOR PUPILS
Black coat, rain suits, tracksuit top, tracksuit bottoms and wellington boots to have loops sew in so they can be hung up properly on pegs. We recommend using elastic or ribbon for looping.
Shoes
Shoes should be all black leather lace-ups with black laces, Velcro or buckle fastening shoes.
Shoes not permitted: slip-ons, suede, patent leather, raised backs (boots), open toes and sparkly adornments.
Raised heels 2.5cm maximum
Make-up: Pupils may not wear make-up of any kind, including the use of nail varnish.
Jewellery: Only plain stud earrings may be worn. All jewellery must be removed for PE. No stud earrings for boys. No pupils are permitted to have other body piercings that are visible i.e. tongue, eyebrow. Pupils are allowed to wear a wristwatch.
Hair: All pupils should have smart hair in appearance. Hair that is longer than shoulder length must be tied back; bands or ribbons to be black or (green for Junior) and (burgundy for Senior). Adornments in the hair are not permitted bows, glittery hair bands etc. Hair may not be coloured or dyed. Boy's hair should be no longer than to their shirt collar. Boys are not permitted to grow facial hair.
When starting back at school in September summer or winter uniform may be worn. Winter uniform must be worn from second half of Autumn term until the end of the Spring term. Summer uniform must be worn during the Summer term.
Opening Times and Useful information
Ditcham Dragonflies
Reception -> Prep
Transition -> Uppers
Seniors