Admissions
Admissions
Welcome to Ditcham Park School! We do hope you have found our website, virtual tour, Open Morning videos and news interesting and informative.
Our Head of Admissions will be pleased to guide you through the entrance process and answer any questions you might have at any point until your child joins our School. Admission's contact details are admissions@ditchampark.com.
Our Head of Admissions will be pleased to organise an initial exploratory phone call with the Headmaster, a bespoke tour or taster day to help you and your family explore and experience the options and opportunities offered by Ditcham Park.
Our School Office and Administrative teams have extensive knowledge about School and will be happy to deal with any general or specific queries you might have as they arise. Please email admissions@ditchampark.com or call us on 01730-825659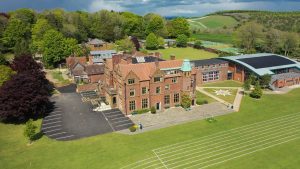 Academic Standards and Admissions to the School
Ditcham Park School is a relatively small school with small class sizes, and entry into the School is therefore dependent on places being available in your child's requested entry year group and timeframe.  
To avoid possible disappointment, please contact our admissions team for details of current and future availability when considering School options for your son or daughter.
Children can join our School in Dragonflies Pre-School from age 3 upwards.  We do encourage you to consider an early entry point to guarantee the ongoing availability of a place to your child as they progress through Juniors and on to Seniors.
For external candidates, entry to Juniors from Years 3 to 6 is dependent on the successful completion of an academic assessment and report from your child's current school.
Entry to Seniors from Year 7 onwards is dependent on passing an entrance test to determine whether the pupil will be able to cope with the School curriculum, together with a report from the child's current school.
The entrance process comprises tests in English, Mathematics, Verbal Reasoning (VR) and Non-Verbal Reasoning (NVR), plus an interview with the Headmaster and Head of Juniors or Seniors as appropriate. For full details about our Admissions procedure please see below.
For our current Junior pupils, entry to Seniors is seamless. If we have any concerns that your child will not be able to manage the Senior curriculum this will be highlighted and discussed with you early in your child's Junior career.
Ditcham Park School welcomes and develops pupils of a wide ability range.  Individuals' needs are assessed carefully and, where required, some of our pupils benefit from additional support with their studies from specialist learning support teachers. We ask parents to share full details about their child's learning needs and learning difficulties when applying for a place.
It is, however, a fact that we more readily accept young children who need learning support than older ones and this in another reason why we encourage you to consider entering your child in the Junior year groups so that they can maximise the benefit of our individual approach and develop sufficiently prior to their move to Senior years.
Ditcham Park School is proud of its GCSE results and the success enjoyed by its pupils. In 2021, results have built on successes in previous years. 49% of results were grades 9-7 and 99.9% of results were grades 9-4. Virtually all pupils take 9 or more GCSE subjects and successfully progress through to 'A' levels or BTECs at College or Sixth Form and then go on to University.
CATS is a system through which value added can be calculated at GCSE level. It compares the GCSE results achieved by pupils in Form 5 with a series of GCSE predicted grades based on tests sat by pupils in Form 1. In 2021, we saw some impressive value-added results, with nearly 50% of all pupils achieving on average at least 1 grade higher than expected across all subjects, with our top pupil achieving a value added score well in excess of two grades per subject.
Detailed information about Academic, Music, Art, Drama and Sports Scholarships available at Ditcham Park School can be found in the Scholarships section of our website, alternatively please have a conversation with our admissions team to discuss the opportunities available.
In addition to merit-based scholarships, the School is committed to awarding, on an annual basis, at least one fully funded 11+ place to an eligible state school pupil who successfully passes the entrance tests and meets the financial criteria. 
All Bursary places are means-tested annually. To read more about Ditcham Park School's Bursaries and how to apply, please click here.

Admission and Registration Documents