History and Archives
History and Archives
The Cowper-Coles family owned the Ditcham estate in its heyday for about 200+ years until the mid-1860s.
At that time, the House was a hunting lodge and in the classical style of architecture.
Laurence Trent Cave bought the Estate in 1887 and commissioned the well-known architect Sir Reginald Blomfield to build the House as we see it today.
In 1940 the House was requisitioned by the Royal Navy as a convalescent home for wounded sailors and a train service was established to bring the sailors from Portsmouth to a station at Woodcroft Halt.
After the Second World War the school was bought by a Catholic Educational Foundation and became a Preparatory School for Boys.
In 1976 the school buildings and 16 acres of land were bought by the School's Founder, Mrs Patricia (Paddy) Holmes. Paddy felt that educational changes introduced in the 1970s were having a detrimental effect on the education of children in the Portsmouth area and determined to establish an Independent School where she could create a curriculum that could meet the needs of local children.
The School opened on 14th September 1976 with 97 pupils on roll.
The School has now established itself as an educational gem situated in the uplifting and inspirational surroundings of the South Downs National Park. Today the School admits boys and girls from rising 3 to 16 and numbers have risen to more than 400.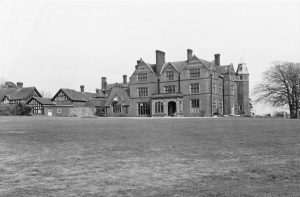 The Ditcham Archive
The School's Ditcham Connect group is currently working to establish and maintain The Ditcham Archive.
Fortunately, given its relatively recent foundation, we are able to benefit from the memories of our Founder and several of her original staff and this is helping us enormously with our efforts. However, your memories and memorabilia are of equal value to the School and we invite you to get involved and contribute too!
There are many ways in which you can get involved, to help us fill the gaps from years gone by – particularly between 1976 and 2016
1.     The Ditcham Gazette – do you have copies of the DG you might loan or donate to the School Archive?
2.     The DPS Year Book – do you have copies of the DPS yearbook you might loan or donate to the School Archive?
3.     Do you have copies of DPS newsletters, your academic records, and reports, school trip photographs etc that you'd be willing to loan or donate to the School Archive?
4.     Do you have your old school uniform or blazer that you would be happy to donate or loan to the School Archive?
5.     Share your memories – perhaps your first day of School with all those stand out details that were special to you?
If you think you can help in any way please contact Glen Jones, Bursar/COO in the first instance via archive@ditchampark.com or telephone 01730 825659.