Travel and School Bus Routes
Pupils attending Ditcham Park School are fortunate to enjoy a stunning rural location in which to learn, exercise and play.  To ensure we remain easily accessible to those families who want their child(ren) to benefit from our School's safe and nurturing countryside location, but are not able to drive independently to Ditcham Park on a daily basis,  we operate an excellent and comprehensive "Home-School" bus service throughout our catchment area.
A network of 9 minibus and coach routes are available from September 2021.  Details of the current pick up and drop off points are shown on the diagram below.   Many of these, particularly Petersfield, link easily to a number of public bus and train services including the mainline Portsmouth-Guildford rail service which calls at Petersfield Station, which is also one of our regular bus route stops.
Our routes are provided by AMK, who we have worked with successfully for many years.  Consequently, our parents and their children get to know their AMK driver well and we have been delighted to receive very positive feedback from parents during the most recent service survey.
"Adam is great, so punctual you can set your watch by him"
"So good with our children, and a 1st class driver"
"A kind and caring guy, who looks after our kids"
Further details, including a timetable and schedule of charges, are available from the School Office and/or Bursary.
Train Travel
Here is a guide to booking family train tickets to help you find out how to get to Ditcham, our nearest train stations are Petersfield and Rowlands Castle – we've included ways they can save money on train tickets and child fare information. There are bus stop "pick-up" points on our bus routes from both stations.
https://www.thetrainline.com/trains/great-britain/family-train-tickets
Contact:   Head of Admissions: admissions@ditchampark.com  or Deputy Bursar: louise.bowen@ditchampark.com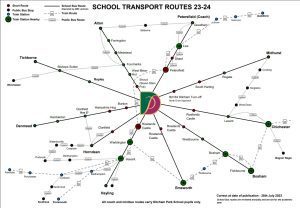 Download Transport Routes (PDF)