STEAM
World Space Week 2022
World Space Week is an international celebration of science and technology and their contribution to the betterment of the human condition. The United Nations General Assembly declared in 1999 that World Space Week (WSW) will be held each year from October 4-10.
These dates commemorate two events:
October 4, 1957: Launch of the first human-made Earth satellite, Sputnik 1, thus opening the way for space exploration
October 10, 1967: The signing of the Treaty on Principles Governing the Activities of States in the Exploration and Peaceful Uses of Outer Space, including the Moon and Other Celestial Bodies.
We are celebrating WSW by launching the first Ditcham Park Sustainable Solargraphy competition!
Solargraphy cameras will need to be built at home and we suggest you plan for a six-month exposure starting on the winter solstice, so you have some time to plan!
Competition entries will need to be in before Friday 30th of June with the winning entry to be announced the following week.
Competition details
Please read through the details below and if you have any questions then check with Mr Leonard or Mr Hoad in the science department.
Solargraphy is a simple photography technique which uses a simple pinhole camera and a long exposure to track sun trails over a sustained period of time. This competition won't require much in terms of materials, but it will require some patience!
You can find plenty of information online explaining how to build such a camera. This is often done using a large 16oz aluminium drinks can and some tape. There is some cutting involved so adult supervision is required.
Please follow these links for some more detailed 'how to' guidance:
https://petapixel.com/2015/04/29/how-to-make-a-diy-solargraphy-pinhole-camera-for-6-month-exposures/
https://www.realphotographycompany.co.uk/solargraphy
Other web sources are available and well worth a look.
We recommend your camera is left for six months to capture the best possible image.
The sun will rise in the east and set in the west each day leaving trails across the paper. We have given you time to build your camera and make considerations before the recommended start date on the winter solstice which is always the 21st of December each year.
Things to consider:
Why is it best to leave your camera for 6 months?
Where will be best to place your camera?
How will you secure your camera, keep it as still as possible and protect it from the elements?
As well as solar trails, what else might your camera be able to image? Can you include an interesting feature?
You will need to source your own materials to build your camera and secure it. Do seek permission from any landowners beforehand!
The science department at Ditcham Park will issue you with one piece of photographic paper. Please register your interest by Monday 28th of November to allow us time to order enough for all who would like to enter. Details to follow.
The competition will be judged on quality of image, aspect and any interesting features. Most of all though we hope you have fun taking part and enjoy sharing your results with Tim Peake! He's clearly looking forward to seeing the images!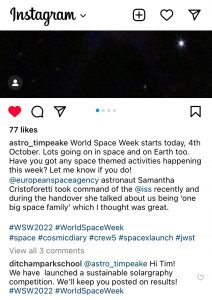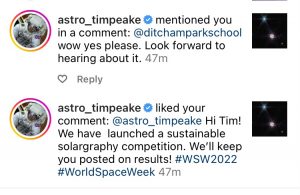 Mr Leonard
**************************************************************************
Junior STEAM
In the Juniors, the STEAM Programme is an integral part of the curriculum.  Junior lessons are planned and delivered bu the class teacher with expert support from subject specialists and coordinators.
Junior Pupils all take part in a Science week during the spring term.  During this week every child takes part in the Primary Engineer Award where they consider the question 'If you were an engineer, what would you do?'  With the expert help of visiting speakers, every pupil comes up with a design for a brand new concept with an accompanying design brief. Ditcham pupils aged between 5 and 10 have been finalists in this competition every year that we have entered.
Additionally, all Ditcham Junior pupils undertake the Crest Star and Superstar Awards.  These are challenging and thought-provoking real-world STEM projects, which inspire children to think and behave like scientists and engineers.
In Year 6 our Uppers design, build and race and electric car, supported by the Greenpower Education Trust.  This project inspires team work,  as well as developing the children' enthusiasm for science and engineering.
Creativity is an essential part of STEAM and Junior pupils enjoy a varied and wide-ranging art and design and technology curriculum.  We enter the ISA art competition and win or place highly every year. Specialist art teachers allow our pupils to engage with the arts at a high level and create sculptures, batiq, collage, portraits, models, sketches and paper engineered books.
Senior STEAM
Science, Technology, Engineering, Art and Maths
The Rationale
At Ditcham Park School we have an exciting whole-school STEAM Programme. Conscious that technology is changing the way we live and the way we work, Ditcham Park School's STEAM programme is designed to realise one of the School's Aims to 'Prepare pupils for the Future' by providing our pupils with technological skills such as coding and an awareness that technology is transforming the workplace and providing new career opportunities.
The STEAM Programme
At the core of our STEAM program is the timetabled STEAM curriculum lessons that take place both in the Junior (KS1&2) and Senior (KS3&4) school.  In the Junior school these lessons are planned and delivered by the class teacher with expert support from their science and maths co-ordinators.  In the Senior School, students receive compulsory STEAM lessons once a week in Years 7, 8 and 9.  These STEAM lessons focus on the skills and habits of mind required to be successful in our new digital age.  Students are challenged to be creative, problem solving, critical thinkers and designers in a series of workshops all taught by specialist teachers.  Some of these STEAM lessons have included learning how to code using Lego Mindstorm robots, building a Siemens Greenpower Challenge Car and studying Science Fiction literature and film. This compulsory aspect of the curriculum is really important to help students become informed and aware of STEAM careers before making option choices.  We also offer comprehensive extra-curricular STEAM workshops during the school day including participation in some of the most exciting national STEAM competitions such as BP, Shell, First Lego League and the National Science and Engineering Competition.
STEAM Speaker Programme
To complement our curriculum lessons we have introduced a STEAM speaker programme to provide an opportunity for our pupils and their parents to meet and listen to inspirational figures with a STEAM background. Our first speaker was Futureologist, David Smith who talked about future careers. The second speaker was Director of Operations for Google UK, Craig Fenton, who talked about Artificial Intelligence, Virtual Reality and Augmented Reality. Our third speaker was Dr Sam Aaron who invented Sonic Pi and uses his coding skills to compose music. Helen Sharman CMG OBE, the first Briton in space, visited Ditcham Park School as our guest of honour for our Founder's Day and Prize Giving. She delivered a fascinating talk about her training and experiences as an astronaut.
STEAM Educational Visits
Students have been on inspiring day trips to visit the Ben Ainslie Racing (BAR) headquarters in Portsmouth and the Big Bang Fair in Birmingham, the largest STEM exhibition in the UK.
STEAM Week & STEAM Fair
Our Senior School students spent several days off-site on STEAM inspiration trips. Destinations of these trips included Winchester Science Centre, the Science Museum in London, and Thorpe Park.  The second day consisted of the students taking part in a project designed by the Royal Society of Chemistry back at school called Mission Starlight. Completion of this global experiment on UV Protection can be used to achieve a 'Bronze CREST Award' awarded by the British Science Association.  Over 67% of our students have been inspired enough by the day to work on the project over the summer holidays in order to achieve either a Bronze or perhaps a Silver CREST award!
In July our STEM Fair took place representing the climax of our programme.
At an exciting and awe inspiring STEAM Fair our pupils enjoyed workshops such as Winchester Science Centre's mobile planetarium and got their hands on rare samples of moon rocks and meteorites. These rare samples were provided by the UK's Science and Technology Facilities Council (STFC).
Our students were entertained by a fantastic rockets, fire and explosions show by 'Wonderstruck' and toured an exhibition hall full of top names in STEAM businesses such as Google, Estee Lauder, BOC, the Royal Navy, Morgan Innovation and Siemens.  The students were impressed by the technology of two TESLA cars which were on display and enjoyed interactive exhibits such as a Spitfire simulator courtesy of the defence company DSTL and Roaming Robots, who work on the hugely successful Robot Wars tv programme. Approximately thirty of the top engineering companies in the UK joined us for our event providing a plethora of hands on activities and opportunities for discussion.
Connecting with the Community
Recognising a wider responsibility to our local community we invited our local primary schools to our STEAM Fair and we also ran a STEAM competition within these schools to design a new method of transport.  We were delighted to welcome many primary students to our STEAM Fair and award an iPad for the winning design.
Successful Outcomes
In our post STEAM week student evaluation survey, the STEAM Week scored an average of 4.5 stars out of 5 for enjoyment and 89% of our Senior students say they are now likely or very likely to consider a career in STEAM in the future.
All pupils in Juniors (KS1 & 2) took part in a STEM week which involved working in small teams, problem solving, designing and making. Three of our pupils received a 'Highly Commended' award from the Primary Engineer Leadership project which resulted in their work being exhibited at the University of Southampton. A team of 5 Yr9 students won the 'Most Innovative Design Award' for the regional round of Go4Set which is sponsored by the Engineering and Design Trust (EDF). Two of our Yr10 pupils have been awarded work experience opportunities with McLaren. In the new Academic Year Ditcham Park School will be offering to provide exciting STEAM projects for pupils in local Primary Schools as part of its aim to 'connect with the community' and will continue to develop our innovative and progressive STEAM program.
Graham Spawforth
Headmaster