Ditcham Park School Tennis Academy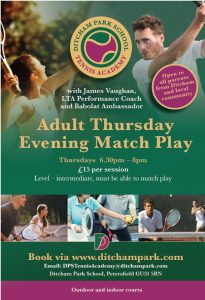 We are delighted to have formed a partnership with James Vaughan, a Lawn Tennis Association (LTA) player and performance coach with extensive playing and coaching experience to create the Ditcham Park School Tennis Academy.
For children we have Academy Sessions on Wednesday evenings, Saturday club, Whitsun, Summer, October and Christmas Holiday Camps which are open to all children and an After-School Academy for Ditcham pupils.
After school tennis club, 3.55pm to 4.55pm for Years 2, 3 and 4. Cost £90 for the term of 9 sessions from Wednesday 26th April for Ditcham pupils. Please see the Summer Term Extra Curricular Activities booklet (on the school website) for further details.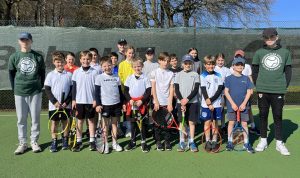 Academy sessions for our wider community from 5pm to 6pm, £100 for the term from Wednesday 3 May
Saturday Club for Years 2 & 3 from 9am and Years 4, 5, 6 from 10.15am, cost £100 for 10 sessions.
For adults we have match play on Thursday evenings 6.30pm – 8pm from Thursday 4 May to Wednesday 5 July, a 9-week program £135, intermediate level with 12 places available.
In 2015 James was GB Performance Coach of the Year and in 2017 he was the Head Coach of the GB Junior Tennis Team.  Most recently James set up the very successful Lone Barn Tennis Club in Clanfield.
At Easter, James moved his former club to Ditcham Park where we are able to offer more courts and better facilities and he hosted the inaugural Easter Tennis Camps for Ditcham Park pupils and children from other schools. We're looking forward to using the new mini outdoor courts this summer!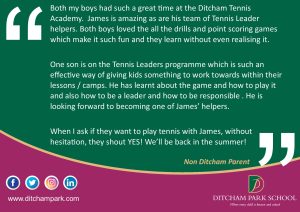 Click here for the sessions available.
Please use WisePay to make bookings; it's easy to set up an account just enter your email and a password to create an account and once you have logged in you will see the booking pages as 'highlights' at the bottom of the page.
If you have any queries please email DPSTennisAcademy@ditchampark.com
We look forward to children taking part in the Ditcham Park Tennis Academy going from strength to strength and maybe, even to Wimbledon!