The Upper Junior classes have an exciting and challenging year, both academically and socially, with the emphasis on encouraging them to discover something of themselves. Self-discovery comes with experience and the children are encouraged to develop an interest in all subjects where emerging gifts and talents are celebrated. In this year, the children are set for maths and elements of English with the majority of lessons being organised on a mixed ability basis. Learning is further enhanced by using an increasing number of specialist senior school staff and facilities. This has the added benefit of ensuring a smooth transition into Year 7. Also, in preparation for the next stage of their education, homework is given a higher priority with the expectation of daily reading, spelling and tables in addition to a subject-based task.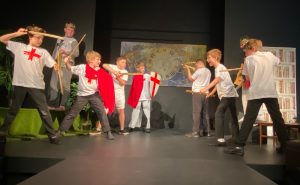 To complement the broad curriculum a wide variety of trips and activities are arranged throughout the year. An early highlight in the year is the residential visit to The Gordon Brown Centre in Hampshire, where pupils will  create, explore, take risks and make new discoveries in a safe, secure and natural environment. Three days in the company of their peers also enables the children to develop their interpersonal social skills and individuality. To further their independence, children in the Upper Juniors are expected to support their school community by assuming responsibilities that involve interaction between younger pupils and staff. House, Games, STEAM, Drama and Music Captains are elected and promote a strong sense of camaraderie.
Pupils and staff belong to one of our four Houses and children demonstrate their awareness of the wider community by organising fund-raising initiatives for their preferred charities.
Finally, the year ends with an exciting project that teaches new skills by building upon those learnt throughout Juniors. This is completed in the form of a production, where pupils demonstrate their many talents by creating scenery, singing, dancing and of course acting, which can be enjoyed by all at Ditcham Park School. This project requires collaborative teamwork, as well as providing a wonderful finale to this fun and exciting year.