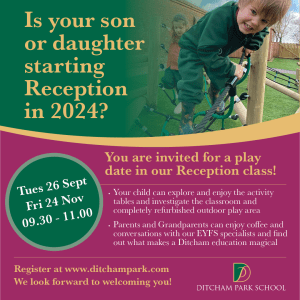 The Reception Class at Ditcham Park School offers a happy, warm and caring atmosphere where children are free to discover and learn at their own pace. We have beautiful, bright and spacious inside and outside classrooms which are well resourced to support child generated and teacher-led topics.
Small class numbers, staffed by a fully qualified and experienced EYFS specialist teacher, with a full-time Level 3 teaching assistant working alongside, provide the children with a high level of individual attention to promote progress in the seven areas of learning.
Our topic-based curriculum is wide and varied, with the flexibility to tailor the topics to individual interests. We believe that children learn by doing and are enabled through investigative activities, with a strong emphasis on both directed and free play. By being so thoroughly immersed and involved in the learning experience they acquire confidence and security to explore their world and by providing a stimulating and motivating environment, we make learning a positive and rewarding experience!
Ditcham Park School is set in the most beautiful surroundings and we take our learning outside as much as possible. We go for long, seasonal walks in all sorts of weather, looking for bluebells in the spring, hunting for mini-beasts in the summer, painting leaves of green, orange, red and yellow in the autumn and, of course, making snowmen in the winter!
School trips include visiting Alice Holt Forest, Whitewool farm at Meon Springs, Southsea Model Village, the Blue Reef Aquarium and more! Visits vary according to the interests of the children, such is the flexibility we are able to offer.
Ditcham Park is renowned for being a family school and the single site means that we are fortunate to have strong links with the senior area of the school, enabling us all to benefit from each other. Senior pupils often choose to help in the Reception classroom as part of their activity choices associated with the Duke of Edinburgh Award Scheme. We enjoy regular visits to our Art Gallery and watch the Senior Orchestra and Woodwind Group rehearse.
We welcome and encourage parental involvement within the Reception Class. We believe our team includes the children, parents and staff; we all want to learn together in this wonderful school where every child, and adult, is truly known and valued.
We have received a judgement of 'Outstanding' in our last 4 inspections; a really consistent performance.