Dragonflies Diary of Adventures
This Week in Dragonflies 24-03-23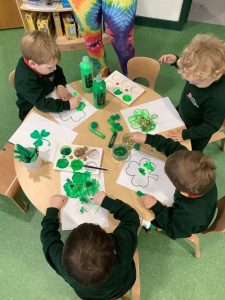 In Dragonflies, we've been talking all things green whilst making our shamrocks and learning about St Patrick. We also inspected our frog spawn to check on how they're growing and talked about how different they look since last week.  We got creative and used our paint pens to draw pictures of King Charles on his future coronation!
We were particularly impressed with Claire's drawing, which can be spotted on the display board!
We're getting egg-cited as we get prepared for Easter!  We have an egg roll event happening on Tuesday (28th)  morning..we'd love to have you join us!
Love,
Kylie & Claire xx
Contact Details & Useful Links